MOLECULAR CONTROL OF MONOCYTE FUNCTIONS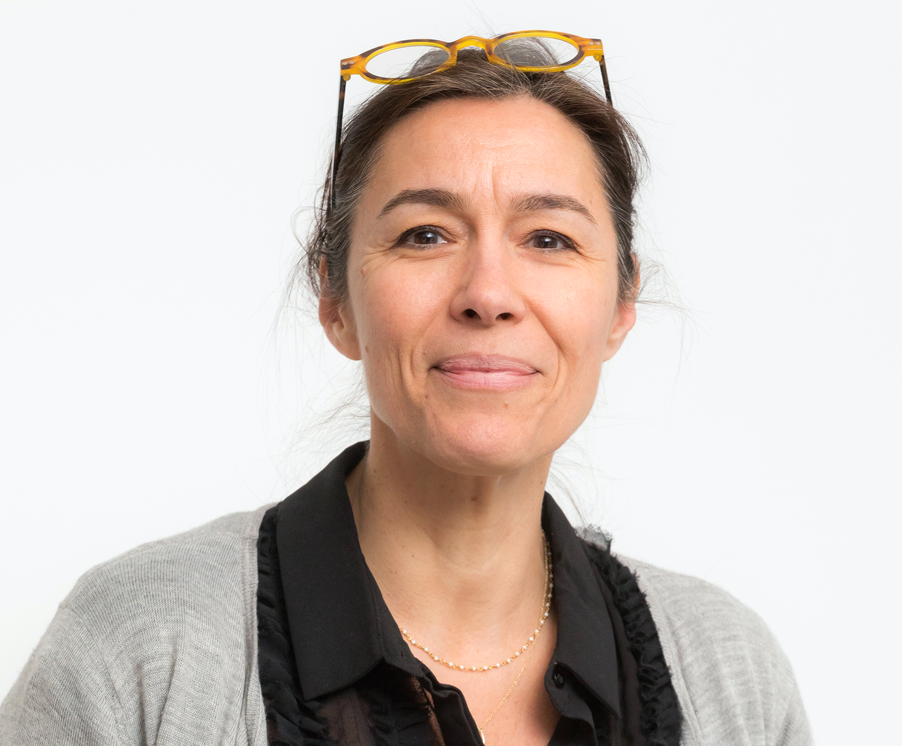 APPARAILLY Florence
(DR2 / INSERM)
COURTIES Gabriel
(CRCN / INSERM)
MARINECHE Léa
(AI, CDD ANR)
LAOUTEOUET Damien
(PhD FHU)
SAAD Norma
(PhD, Arthritis R&D/SOFREMIP)
BORTOLOTTI Olivier
(Master 2, Univ Montpellier)
KAZAK Varvara
(Master Erasmus)

Monocytes
Macrophages
Osteoclasts
MicroRNAs
In vivo RNAi
Inflammation
Bone erosion
Arthritis
Biology of RNA, miRNAs and proteins, culture and transfection of human and mouse cell lines and primary cells
Purification of monocytes and differentiation into macrophages, dendritic cells and osteoclasts
In vitro and in vivo RNA interference, gene therapy
In vivo fate mapping of monocytes and macrophages
Transcriptomic analyses (miRNome, (sc)RNAseq)
Experimental mouse models of arthritis and osteoarthritis (monitoring of clinical parameters, inflammation and bone erosion, histology)
Multiparametric monitoring of the immune response in mouse and human (flow cytomtry, fonctionnal in vitro assays)
Monitoring of the mitochondrial dynamic and functions (SeaHorse, RT-qPCR, ArrayScan)
Fonctional assays of osteoclasts (RT-qPCR, TRAP activity, osteo-assay)
Monocytes are important for the maintenance and restoration of tissue homeostasis. They are key immune cells in the inflammatory response associated with injury and tissue regeneration. They play a central role in the pathophysiology of autoinflammatory and autoimmune arthritis as they can mediate joint inflammation and bone erosion. We wish to understand the molecular mechanisms driving the heterogeneous nature and fate of monocytes towards macrophage and osteoclast differentiation in the setting of inflammatory joint diseases by exploring their diversity within the synovial tissue, in health and disease.
We combine various modalities and cutting edge technologies, including 18-colors immunophenotyping, lineage-tracing experiments in macrophage-specific KO arthritic mice,  long-term parabiosis, mass cytometry imaging system (Hyperion) combined with the Helios 3rd generation CyTOF to analyse synovial biopsies of arthritic individuals, intravital imaging, miRNome, bulk and single cell RNAseq, as well as in vivo RNAi in experimental mouse models of joint inflammation.
Our overall goal is to identify and validate specific markers of joint macrophage subsets useful for future therapeutic interventions and stratified medicine in patients.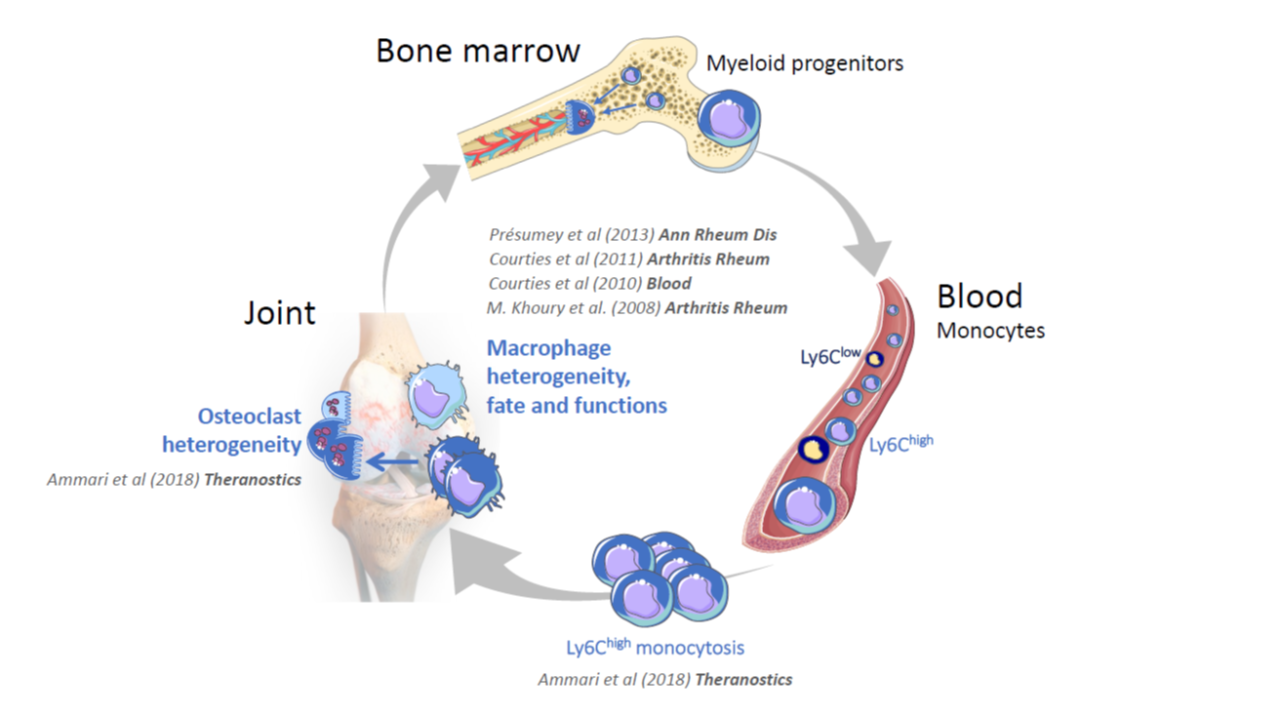 Main achievements:
1- miR-146a/RelB axis controls Ly6Chigh monocytes commitment in to osteoclasts
(https://www.thno.org/v08p5972)
2- miR-125b controls CD14+inflammatoryresponsethrough mitochondrial metabolism
(https://www.ncbi.nlm.nih.gov/pubmed/27702798)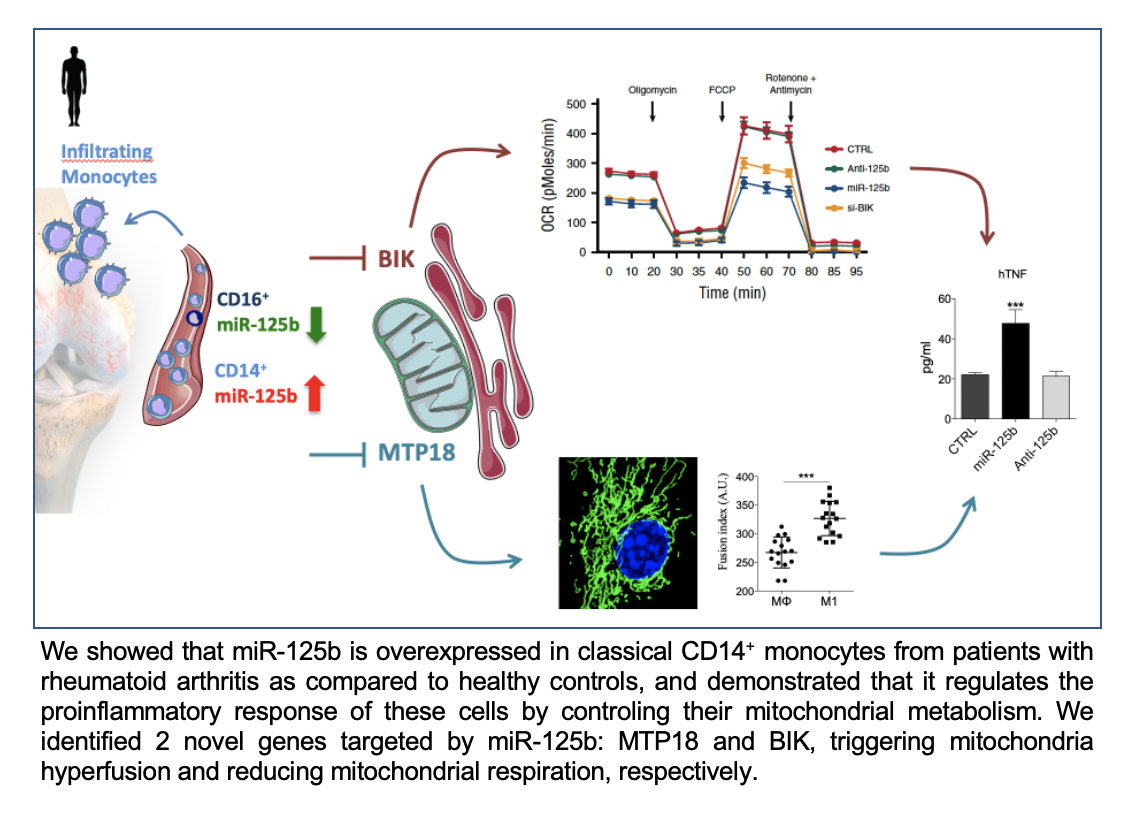 3- MicroRNAs from the synovial fluid may represent potential biomarkers to assist in the classification and differential diagnosis of juvenile arthritis forms and help in understanding disease pathogenesis
(https://www.ncbi.nlm.nih.gov/pubmed/31779271, https://www.ncbi.nlm.nih.gov/pubmed/31176874)
Learn more:
Invitation par l'ITMO I3M d'Aviesan aux journées HYBRID sur la thématique "Immunologie-Inflammation et maladies chroniques associées" (March 16-17th, 2021)